Impeller Cast Using SLA-Printed Patterns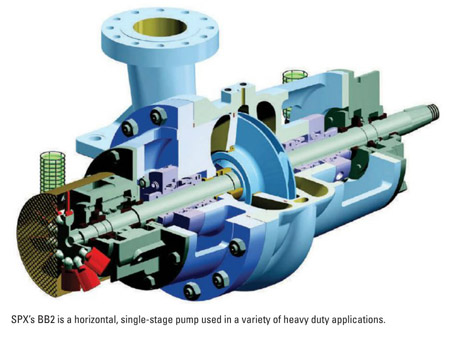 Needing to replace two double suction impellers with 30-in. diameters, SPX, Charlotte, North Carolina, decided to explore alternative casting processes to improve performance and limit lead times. It contacted Tech Cast LLC, Myerstown, Pa., a producer of large (up to 500 lbs.), precision engineered investment castings using stereolithographic (SLA) rapid prototype technology, an additive manufacturing process that produces objects from CAD models by printing successive layers of curable resin that are hardened via ultraviolet light.
Because an older wood pattern was the only model for the 500-lb. impeller, Tech Cast needed to generate a 3-D drawing for production of the mold. (The 3-D printing was handled by a third party.) Despite having to generate a 3-D model from scratch, Tech Cast produced two impellers in corrosion-resistant martensitic stainless steel at nearly equal cost in half the time as the traditional method.
"It took us about two weeks to produce an SLA prototype," said Shawn McKinney, general manager, Tech Cast. "Actual manufacturing time from receipt of the prototype to delivery of the casting, was four weeks."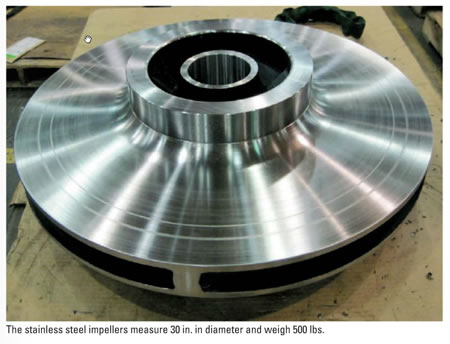 Cast nearly to net shape, the components required significantly less machining and avoided the time consuming welding/grinding loops that typically were necessary with green sand casting. In all, the lead time dropped to six weeks from the previous 12 weeks. Additionally, no defects were discovered on the impellers.
The order was relatively small, but Tech Cast's ability to produce the castings quickly and cost effectively has resulted in additional opportunities with SPX.
"That was the biggest, toughest impeller we could find, and not only did the process work, but it came out better than anything we'd ever seen for that size," said Dan Crumrine, buyer, SPX. "We took a huge chance and it paid off beautifully."
While Tech Cast plans to continue to receive its 3-D molds from an outside vendor, additive manufacturing can reduce tooling costs and lead times, which can make investment casting more competitive by reducing lead times for short-run components.
"Traditional investment cast tooling can take 8-12 weeks to build and may require significant capital investment, both of which can present barriers to entry into this manufacturing process," McKinney said. "The use of additive manufacturing technology to produce quality investment castings represents an area of organic growth opportunities for investment casting manufacturers to expand their businesses."