Tech Cast is a privately owned, non-union, investment casting foundry that produces investment castings in a diverse range of alloys including duplex and super duplex stainless steels. Tech Cast produces investment castings in a diverse range of high and low carbon steel grades and exotic alloys to meet your needs. Precision craftsmanship, flexibility, and customer oriented with consistent, reliable delivery is our specialty.
OUR MISSION STATEMENT
Tech Cast strives to be a customer focused investment cast foundry providing value-driven solutions to meet the complex needs of our customer base.
Tech Cast will accomplish this by utilizing advanced engineering technology, continuous process improvement, value added services, and the applied skill and craftsmanship of our team. Learn more about Tech Cast by viewing our video below.
Core Values
Integrity
Loyalty
Ethical / responsible
Professionalism
Teamwork / staff development
Complete customer satisfaction
Stewards to community / environment
Leadership
Commitment to excellence
Promote diversity
STRATEGIC FOCUS
Tech Cast will assemble and train a solid team who can provide a complete network of services and unique product solutions in order to meet the ever changing demands of our customers.
History
Quaker Alloy was founded by Leroy Miller, James Blauch, John Juppenlatz, and Richard Miller Sr. in 1954, and instantly became a leader in the sand casting industry.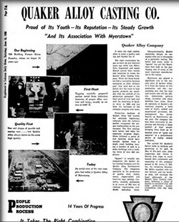 Quaker Alloy grew to have over 1300 employees and pour 7000 tons of steel annually in Myerstown, PA. Leroy and Richard Sr. sold off the business to Harsco Corporation in 1969. Richard Miller Sr. son (Richard Miller Jr) became actively involved in the business in 1973 as a controller and eventually started an investment cast division for Harsco in 1977. The first production heat was poured from the investment cast division on March 27, 1978.
Quaker Alloy Casting Company and its investment casting facilities were purchased in April 1986 by CMI International, Inc., and later became a subsidiary to CMI International, Inc. in March 1988, under the ownership of Ray Witt.
On June 1, 1989, the sand/shell foundry was renamed to CMI-Quaker Alloy, Inc. and the investment cast foundry was renamed to CMI-Quaker Investment, Inc., each independently responsible as subsidiaries of CMI International, Inc.
In 1996, once again CMI-Quaker Investment, Inc was renamed to CMI-Tech Cast, Inc., the foundry continued to operate under this entity until 1999, at which time the business was renamed Tech Cast, Inc. Ray Witt continued to own and operate the business until March of 2010 when Revstone Industries purchased Tech Cast. In 2014, Spell Capital acquired Tech Cast, which continued operating as Tech Cast Holdings LLC, dba Tech Cast LLC.
On October 13, 2022, TechCast was acquired from Spell by Daedalus Investments LLC and will be operating as Tech Cast Limited.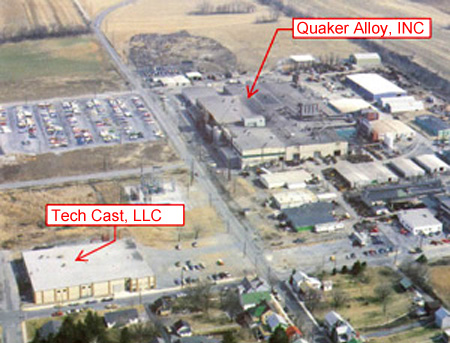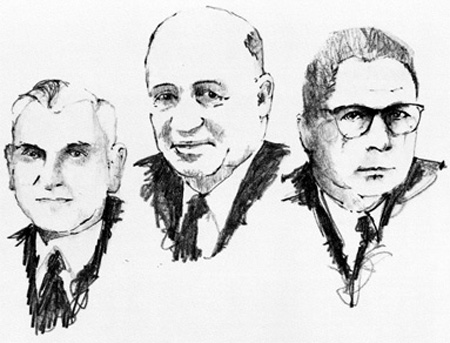 Certifications
Customer Service
Tech Cast strives to be at the forefront of our industry when it comes to quality investment castings. Our commitment and focus is to achieve complete customer satisfaction; Tech Cast prides itself on providing high efficient levels of service to all of our customers, by all levels of personnel within our organization. Please contact us to find the sales representative in your area, or send an email to sales@techcastlimited.com to let us know your concerns, questions, or any other feedback you would like to leave for our performance. Tech Cast values the input from our customers, and we use your feedback to help us to continue to grow and improve.